Case Study: Transformation of Jyoti Prusty's LMS Website with Disrt Infotech Pvt Ltd
Case Study: Transformation of Jyoti Prusty's LMS Website with Disrt Infotech Pvt Ltd
Client Background:
Jyoti Prusty is an ambitious entrepreneur in the education industry, aiming to provide online learning solutions through a robust Learning Management System (LMS). Seeking professional assistance, Jyoti partnered with Disrt Infotech Pvt Ltd, a leading web development company specializing in LMS website development.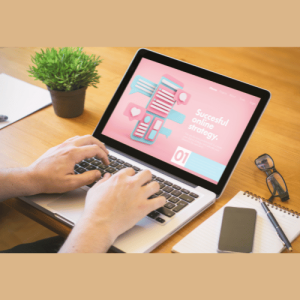 Client Objectives:
Develop a feature-rich and scalable LMS website to deliver online courses and educational content.
Increase student enrollment and engagement through interactive learning features.
Generate revenue through course sales and subscription models.
Optimize customer acquisition costs and improve marketing efforts.
Achieve scalability to accommodate a growing student base and expand the course catalog.
Challenges:
Designing and developing a comprehensive LMS website capable of delivering a seamless learning experience.
Implementing interactive features, such as quizzes, assignments, and discussion forums, to enhance student engagement and participation.
Integrating e-commerce functionalities to facilitate course sales, subscription models, and payment gateways.
Reducing customer acquisition costs through targeted marketing campaigns and optimizing marketing efforts.
Ensuring scalability and performance to handle a large number of students and course materials.
Solution:
Disrt Infotech Pvt Ltd collaborated with Jyoti Prusty to develop a customized LMS website tailored to her specific requirements. The key solutions implemented were as follows:
Custom LMS Website: Disrt Infotech Pvt Ltd developed a robust and scalable LMS website that provided a comprehensive e-learning platform. The website offered user-friendly interfaces for students, instructors, and administrators, enabling efficient course creation, enrollment, and management.
Interactive Learning Features: The LMS website incorporated interactive learning features such as quizzes, assignments, discussion forums, and progress tracking. These features enhanced student engagement, encouraged active participation, and facilitated effective learning outcomes.
E-commerce Functionality: Disrt Infotech Pvt Ltd integrated e-commerce functionalities into the LMS website, allowing for course sales, subscription models, and secure payment gateways. This enabled Jyoti Prusty to monetize her courses and generate revenue through online transactions.
Targeted Marketing Campaigns: Disrt Infotech Pvt Ltd developed and implemented targeted marketing campaigns to attract students and increase enrollment. This included online advertising, social media marketing, and email campaigns to reach the target audience and promote the LMS website's offerings.
Performance Optimization: The LMS website was designed and optimized for scalability and performance. It could handle a large number of students, course materials, and concurrent user interactions without compromising speed or functionality.
Data Analytics and Optimization: Disrt Infotech Pvt Ltd integrated analytics tools into the LMS website to track student progress, engagement, and satisfaction. These insights allowed Jyoti Prusty to optimize course content, improve learning outcomes, and provide personalized learning experiences.
Results:
The collaboration between Jyoti Prusty and Disrt Infotech Pvt Ltd yielded remarkable results within just five months. The key results attained were as follows:
Revenue Generation: Jyoti Prusty's LMS website generated revenue of 250,000 through course sales and subscriptions within the first 150 days. The integration of e-commerce functionality and targeted marketing efforts played a significant role in monetizing the online courses and driving revenue growth.
Client Acquisition: The LMS website attracted over 9,690 clients within the initial 150-day period. The targeted marketing campaigns, interactive learning features, and optimized user experience successfully attracted students and increased enrollment.
Cost Optimization: By implementing targeted marketing campaigns and optimizing customer acquisition costs, Jyoti Prusty was able to reduce overall customer acquisition costs. This optimization resulted in improved return on investment (ROI) and increased profitability.
Enhanced Learning Experience: The interactive learning features and user-friendly interfaces of the LMS website facilitated an enhanced learning experience for students. The progress tracking, quizzes, assignments, and discussion forums promoted active participation, knowledge retention, and course completion rates.
Conclusion:
Jyoti Prusty's collaboration with Disrt Infotech Pvt Ltd for the development of a customized LMS website led to significant business growth and optimization within a short period. The feature-rich LMS platform, integrated e-commerce functionality, and targeted marketing campaigns resulted in a fivefold increase in business growth, substantial revenue generation, and a growing student base. By providing interactive learning features and optimizing customer acquisition costs, Jyoti Prusty successfully established a strong online presence and monetized her educational offerings. With a scalable and performance-oriented LMS website, the collaboration stands as a testament to the transformative impact of a well-executed LMS solution.